Hotel El Faro – The Perfect Place to Stay Near Alghero
The Italian island of Sardinia had been on my radar for a while already until I finally went there this summer.
As a fan of warm weather, sunshine, good food, and dreamy beaches, the so-called 'Caribbean of Europe' seemed like the perfect destination for me. I mean, it's among the warmest places in Europe in October!
With a size of almost 25,000 km², Sardinia is the second-largest island in the Mediterranean Sea. So it's no wonder the island has tons of sights to see, almost too many for only one visit!
If you're that type of traveler whose goal is to tick off as many places as possible, it's best to plan a road trip around Sardinia and book several accommodations in different parts of the island.
However, if you prefer a good mix of relaxation and exploration, it's a good idea to book only one accommodation and use it as a base to explore the surrounding area.
Our flight was to Alghero so we decided to focus on the north-western part of the island. Thus we decided to book a place near Alghero from where we could explore the rest of the northern island.
We stumbled upon Hotel El Faro during our hotel search and were immediately flashed by the photos and the thousand (no exaggeration) amazing reviews.
Now we were really curious and wanted to form our own impressions so we just went for it and booked a 7-night stay at Hotel El Faro.
Let me tell you: We could not have made a better decision! It was exactly as we imagined it to be. No, even better!
But more about that later, let's start with some practical information about one of the best hotels to stay near Alghero.
(This post contains affiliate links, which means I receive a certain percentage of a sale if you purchase after clicking.)
Location of Hotel El Faro
Hotel El Faro can be found in a small bay in the province of Porto Conte. Thanks to its secluded location, it's the perfect address for everyone seeking a relaxing break from everyday life.
At first glance, it might appear far from any civilization but the nearest supermarket is just a 10-minute walk away in the small village of Maristella. Even the historic town of Alghero is only a 20-minute car ride away.
The fastest and easiest way to reach Hotel El Faro is by flying into Alghero airport and then hiring a rental car.
It's only a 15-minute drive and you'll most likely need the rental car to explore the rest of the island, except you booked an all-inclusive package holiday.
The hotel also offers a shuttle if you're not a fan of driving yourself. If you arrive in Cagliari or Olbia, the car ride takes between two and three hours.
Welcome to Hotel El Faro!
If I had to describe our arrival at the hotel with only three words they would be: Warm, friendly and open-hearted.
We entered a big, light-flooded reception area with cozy sitting areas and beautiful paintings on the wall.
The best part tho was the epic ocean view from the wide terrace that could be reached right from the reception. That alone put me in a holiday mood right away!
We felt immediately comfortable, not only thanks to the great interior but mainly because of the wonderful staff at the reception.
The check-in was super fast & smooth but the biggest surprise was that we got a room upgrade completely for free! And we didn't even ask about it!
I really didn't expect it at all and was seriously overwhelmed by such a nice, let's call it, 'welcome gift'.
Room With a View
Initially, we booked a classic room, but we stayed in a superior room with a wonderful direct sea view thanks to the upgrade.
In total, the hotel offers 90 rooms in 9 different categories, from standard rooms to premier deluxe suites.
Almost every piece of our interior was in a light blue tone, giving the entire room a fresh and clean atmosphere.
Our bedroom furnishing consisted of a big, cozy double bed; a desk with an LCD TV and a mirror; a minibar and a comfortable reading chair.
In the small hallway leading to the bedroom was a huge sliding door cabinet with a safe and enough storage space for all our stuff.
The bathroom was almost half as big as the bedroom featuring two washbasins, a shower, a bidet and a toilet.
Different amenities such as a hairdryer, shampoo, shower gel, soap and even a cleansing gel were available as well.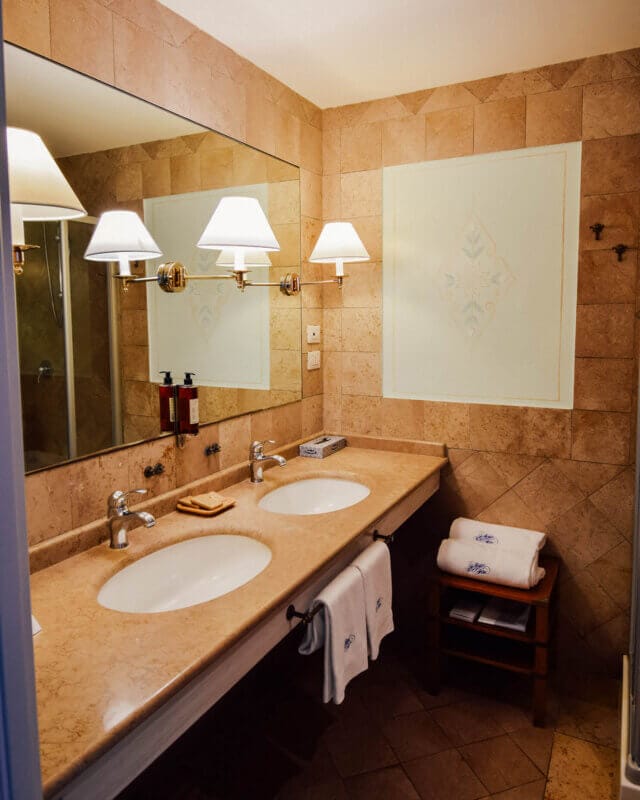 But the best is yet to come because the view from our private balcony was just indescribably beautiful! From there we could enjoy a spectacular front view of the small bay and the deep-blue ocean.
Waking up to this every day was a dream come true!
a Vegan-Friendly Breakfast Buffet
I don't know about you but one of my favorite things at a hotel is checking out the breakfast buffet. 😀
It's crazy but I'm mostly looking forward to having breakfast the evening before already. Please tell me I'm not the only weird person doing this …
The breakfast buffet at Hotel El Faro was especially great as it included so many different options for vegans like me!
I was seriously staggered about the wide range of plant-based food because I didn't expect anything like that.
For example, they didn't offer just one cow milk alternative but three including soy milk, rice milk and almond milk.
Besides that, I found tons of other vegan-friendly things like different kinds of bread, cereals, fruit salad, grilled vegetables, several types of jam, vegan full-grain croissants and even a vegan orange cake (which was super delicious btw)!
And as if that wasn't enough already, they didn't even hesitate to fulfill my extra wishes and serve me the best decaffeinated Café Latte with soy milk ever!
It's 100% true, Italians make the best coffee, no matter what special type of it!
Now you probably wonder if there's anything left that could possibly top all the stuff that I just mentioned about breakfast. Trust me, there is.
Birthday Cake Made With Love
Our trip to Sardinia was kinda special as it was my boyfriend's birthday too.
So I thought it would be nice to get a small cake and told the receptionist about my plan who then assured me they would prepare something nice.
Imagine my excitement when it was finally my boyfriend's birthday. Like every morning we went to have breakfast and my boyfriend was completely clueless about what I had planned for him.
Shortly after we grabbed our food from the buffet, I watched two waitresses preparing something on a plate.
Just a few seconds later, a big chocolate cake decorated with berries and a lit candle was brought to our table. While the staff was slowly approaching us, they started singing Happy Birthday.
My boyfriend's reaction was simply priceless and I was so happy that my surprise was a success!
It was really an unforgettable birthday morning thanks to the kind hotel staff putting effort into organizing this!
Relax, Take it Easy
Because of its amazing location, Hotel El Faro is not only a place to sleep, have breakfast and then leave for the rest of the day. No, it's also a wonderful place to relax, sunbathe and take a swim in the ocean.
Immersed in the natural reserve of Porto Conte, the entire hotel complex covers more than 12,000 acres.
First, there's the main hotel building featuring a panoramic terrace, a fitness room, a huge wellness center, a panoramic restaurant and an American bar.
Then there's the beautiful outdoor area with two seawater swimming pools, a grill bar, and an open-air fitness area surrounded by nature.
However, my favorite place (and the place where we spent most of the time when we didn't explore the island) was in the bay down by the sea.
Sunbeds on small, wooden terraces or beneath straw roofs were placed throughout the entire bay. Three ladders allowed easy access to the crystal clear sea, which was perfect for swimming and snorkeling.
One wooden platform was especially small with only two sunbeds on it. We were super lucky as it was always free on the days we spent relaxing in the bay.
Italian music in my ears, warm sun rays on my skin and a refreshing Campari Orange in my hand, I didn't need anything else to be the happiest person on earth.
And now the question of all questions:
Did Hotel El Faro live up to our expectations?
The answer: A big YES!
I can't say it often enough but I totally and 100% honestly recommend this hotel if you're ever thinking of going to Sardinia and staying in the northwestern part.
The dreamy location, the amazing hotel facilities and the most wonderful staff who went far and beyond to guarantee us the best time – all that made our trip to Sardinia simply perfect!
Interested to read about other hotels I stayed at? Check out:
– Das Moerisch, Carinthia
– Laerchenhof Katschberg, Carinthia
– Resort Svata Katerina, Czech Republic
– Big Blue Tinos, Greece
– Tiziri Camp, Morocco
– Die Wasnerin, Salzburg
---
Like it? Pin it!
---
Do you want to travel like me?
Here are some of my favorite travel tips and resources:
Flights: I prefer using CheapOair or Skyscanner to book flights. The destination everywhere feature is perfect for finding some cheap deals!

Accommodation: Booking.com is my favorite site to find some great hotel deals. I do love staying at a local place as well, thus I book an Airbnb every now and then.

Travel Insurance: There are many reasons why travel insurance is important and I never travel without having one. I use the simple and flexible one from World Nomads to be protected against unforeseen events.

Tours: I love taking tours to explore destinations like a local. My favorite website to book them in advance is GetYourGuide.

Camera Gear: I use a Nikon D5300 camera with an 18-105 mm and a 10-20 mm wide-angle lens to take my photos.